El Paso, Texas Invoice Factoring Office
El Paso, TX 79936 | Phone: 915-778-5600
Providing cash flow solutions to businesses in El Paso, West Texas, and New Mexico.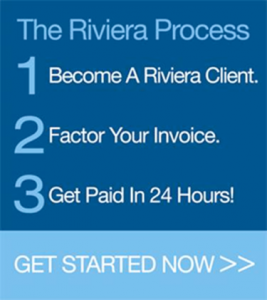 Riviera Finance is an invoice factoring company providing the following services for companies in El Paso, Albuquerque, Las Cruces, Midland and all cities throughout West Texas and New Mexico.
Accounts Receivable Finance
Oil and Gas Financing
Business Financing
Payroll Funding
Phone Numbers And Address:
915-778-5600
915-778-5602 (fax)
11601 Pellicano Drive
Suite B-5
El Paso, TX 79936
Contacts   (Se habla Español)
New Business:
Arnoldo Chavez, Business Development Manager
achavez@rivierafinance.com
Amanda Swanson, Business Development Representative
aswanson@rivierafinance.com
Client Services:
Julio Rodriguez, Account Executive
jrodriguez@rivierafinance.com

Recent Fundings
Launching a Start Up Company
Type Of Business:
Trucking Co.
Factoring Line:
$75,000
Location:
El Paso, TX
This company, referred to Riviera by a former satisfied client, first contacted us when they were applying for their trucking authority. By the time they were ready to start hauling, they had a list of approved customers to begin working with. Now they have more than doubled in volume and they are still growing rapidly.