Southern California Invoice Factoring Office
Santa Fe Springs, CA 90670 | Phone: 800-533-9472 or 562-777-1300
Providing cash flow solutions to businesses throughout Southern California and Arizona.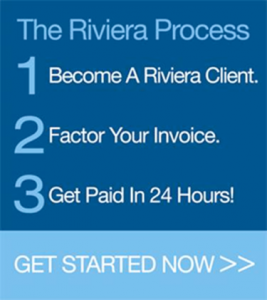 Riviera Finance is an invoice factoring company providing the following services for companies in Los Angeles, San Diego, Phoenix, Tucson and all other cities throughout Southern California and Arizona.
Accounts Receivable Finance
Business Financing
Payroll Funding
Phone Numbers And Address:
562-777-1300
800-533-9472
eFax: 562-381-9172
Fax: 562-777-1311
10430-1 Pioneer Blvd
Santa Fe Springs, CA 90670
Contacts  (Se habla Español)
New Business:

Francisco Alvarez, Business Development Manager
falvarez@rivierafinance.com
Marjhey Johnson, Business Development Representative
mjohnson@rivierafinance.com
Client Service:
Sandy Newman, Operations Manager
snewman@rivierafinance.com

Recent Fundings
Working With A Broker/No Long Term Contracts
Type Of Business:
Temporary Staffing Company
Factoring Line:
$125,000
Location:
Los Angeles, CA
A long time business associate of Riviera had a client who did not qualify for funding by his company. However, he wanted to retain the relationship with this client as he felt they had potential to grow into the profile he required. The company was able to retain the relationship with their client by referring them to Riviera since there are no obligatory long term commitments. Riviera was able to provide the client with the working capital and collections services needed for them to continue their business plan.