Northern California Invoice Factoring Office
San Jose, CA 95110| Phone: 800-336-2223
Providing cash flow solutions, business financing, and invoice factoring to businesses throughout Northern California, Nevada, Utah.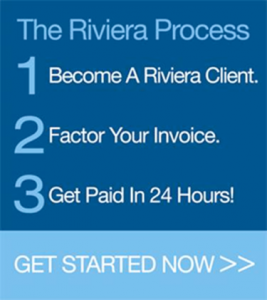 Riviera Finance is an invoice factoring company providing the following services for companies in San Jose, San Francisco, Oakland, Las Vegas, Salt Lake City and all other cities throughout Northern California, Nevada, and Utah.
Accounts Receivable Finance
Business Financing
Payroll Funding
San Jose Phone Numbers And Address:
408-986-9130
800-336-2223
eFax: 408-904-7363
2025 Gateway Place
Suite 385
San Jose, CA 95110
Contacts   (Se habla Español)
New Business:
Jim McCarthy, Business Development Manager
jmccarthy@rivierafinance.com
Client Service:
Elizabeth Stites, Operations Manager
estites@rivierafinance.com

Recent Fundings
Keeping Up with Product Demand
Type Of Business:
Promotional Items Company
Factoring Line:
$200,000
Location:
Sacramento, CA
This company, which produces specialty/promotional items for corporations, needed cash to meet an ever-growing demand for their product. Riviera Finance stepped in and helped the company take on new clients and expand its service to its existing client base.