Lubbock, TX Invoice Factoring Office
Lubbock, TX 79423| Phone: 806-848-4053
Providing cash flow solutions, invoice factoring, and payroll funding to businesses in Lubbock, Midland, Odessa, Amarillo, and Hobbs.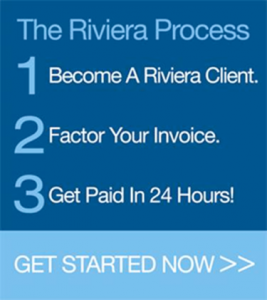 Riviera Finance is an invoice factoring company providing the following services for companies throughoutLubbock, Midland, Odessa, Amarillo, and Hobbs.
Accounts Receivable Finance
Business Financing
Payroll Funding
Phone Numbers And Address:
806-848-4053
Fax: 806-403-4983 
Pyramid Plaza
3223 S Loop 289, Suite 240-I
Lubbock, Texas 79423

Recent Fundings
Type Of Business:
Delivery Services Company
Factoring Line:
$250,000
Location:
Houston, TX
A local delivery service had reached their credit limit with their bank. The bank refused to raise the limit so that the company could grow so they turned to Riviera. We worked with the bank to come up with a plan for Riviera to provide the company with the needed credit for future growth. Now, the company is able to expand and prosper without worrying about credit limit restraints. In addition, Riviera's Online Account Management (ROAM) service has helped the company to keep a firm handle on their customers down to each invoice.