Dallas, TX Invoice Factoring Office
Irving, TX 75038 | Phone: 800-331-0689 or 972-815-4200
Providing cash flow solutions to businesses in: Texas, Arkansas, Missouri, Kansas, and Oklahoma.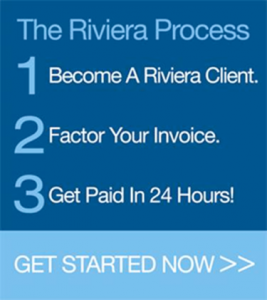 Riviera Finance is an invoice factoring company providing the following services for companies in Dallas, Fort Worth, Oklahoma City, Kansas City, Wichita, Little Rock and all other cities throughout Texas, Arkansas, Missouri, Kansas, and Oklahoma.
Accounts Receivable Finance
Business Financing
Payroll Funding
Phone Numbers And Address:
972-815-4200
800-331-0689
Fax: 972-815-4182
Sales Fax: 972-815-4184
1333 Corporate Drive
Suite # 117
Irving, TX 75038
Contacts   (Se habla Español)
New Business:
Evan Downey, Business Development Manager
edowney@rivierafinance.com
Thavi Rath, Business Development Representative
crath@rivierafinance.com
Client Service:
Kevina Scott, Operations Manager
kscott@rivierafinance.com

Recent Fundings
Facilitating Growth through Working Capital
Type Of Business:
Garment Distribution
Factoring Line:
$100,000
Location:
Georgia
By working with Riviera, this distributor of golf shirts was able to buy out a private investor with their first funding. The increased cash flow gained from Riviera's services allowed them to keep their payments with suppliers current and to achieve growth objectives. Now, the company is steadily expanding to new golf stores across Canada.