Philadelphia, PA Invoice Factoring Office
Philadelphia, PA 19113 | Phone: 800-322-8488 ext 232 OR 484-493-7710
Providing cash flow solutions to businesses in Pennsylvania, Delaware, and Washington D.C.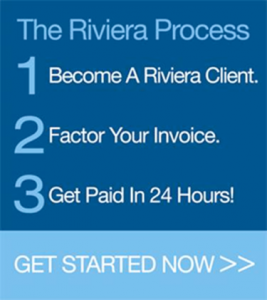 Riviera Finance is an invoice factoring company providing the following services for companies in Philadelphia, Pittsburgh, Harrisburg, Baltimore, Wilmington, Washington DC and across Pennsylvania, Delaware, and Maryland.
Accounts Receivable Finance
Business Financing
Payroll Funding
Phone Numbers And Address:
484-493-7710
800-322-8488 ext 232
Fax: 215-701-2186
1 International Plaza
Suite 550
Philadelphia, PA 19113
Contacts
New Business:

David King, Business Development Manager
dking@rivierafinance.com
Kristin Siska, Operations Manager
ksiska@rivierafinance.com

Recent Fundings
Riviera's Continued Commitment to Truckers in PA:
Type Of Business:
Trucking
Factoring Line:
$100,000
Location:
Bensalem, PA
This trucking company was in desperate need of fast cash to make insurance payments and for fuel to continue to move trucks for the balance of the week. Having never heard of factoring, the owner was careful to explore every detail of our program before committing, yet was very cooperative with our process. Because Pennsylvania is on-line with their UCC searches, Riviera was able to fund the client on the same day we received his final paperwork. Riviera's Max Cash pricing was easy for the client to understand and the high advance rate gave him the cash flow he needed to continue to run his trucks into the following week. No longer constrained by cash needs for fuel or drivers, our client is now calling former customers for growth. He has a meeting scheduled with a large auto parts distributor next month to discuss a multi-million dollar transportation contract. He could never have had this meeting without the cash flow provided by Riviera.