Oklahoma City, Oklahoma Invoice Factoring Office
Oklahoma City, OK | Phone: 405-286-3466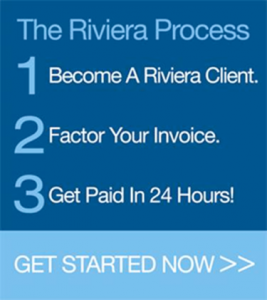 Riviera Finance is an invoice factoring company providing the following services for companies in Oklahoma City, Tulsa, Norman, Lawton and all cities throughout Oklahoma.
Invoice Factoring
Accounts Receivable Finance
Factoring Freight
Business Financing
Payroll Funding
Small Business Funding
Phone Numbers And Address:
405-286-3466
972-815-4200
Fax: 405-286-3478
4334 Northwest Expressway
Suite 242
Oklahoma City, OK 73116

Recent Fundings
Improving Cash Flow and Expanding Equipment Roster
Type Of Business:
Oil and Gas Service Company
Factoring Line:
$200,000
Location:
Tulsa, OK
This Tulsa-based company provides hotshot services to businesses in oil and gas industry. They had only been in business for a month and needed to meet payroll quickly. Riviera was able to establish a $200,000 factoring line for them. With this new source of ready cash, the company was able to factor $20K in receivables in 24 hours enabling them to meet their payroll.