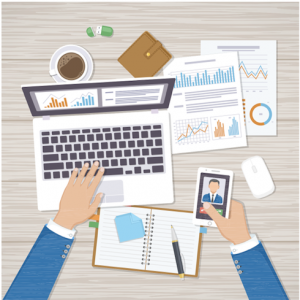 Success in business depends on many factors. You need to target the right customers, launch effective marketing campaigns and deliver great products. Some businesses, however, neglect fundamental areas such as organizing their finances. If your books, files and records aren't well organized, it can lead to problems in areas such as cash flow, taxes, accounting and serving your customers efficiently. That's why it's so essential to learn how to organize business details.
Obtain the Right Financial Software
Using the right software makes a big difference when you want to organize business finances. Decide where your needs lie and what problems are causing you the most headaches. Then you can find a software application that's well suited for your needs. If you need accounting software, for example, Quickbooks might be the right solution.
Back Up Your Files
If you don't back up your files, you risk losing essential information in the event of a computer crash or hacker attack. There are a number of cloud-based options for backing up files, such as Google Drive, Dropbox and many others. Don't neglect this simple yet essential business organization practice.
Use Convenient Small Business Apps
There are many apps for small business that help you organize business tasks such as processing payments, communication, accounting, time management and more. Communication apps such as Fuze and Addappt help you stay in touch with employees, no matter where they are at any given time. If you're struggling with how to stay focused on your goals, time management apps such as Clear and My Minutes are very useful.
Get Professional Help if You Need it
In some cases, it's more efficient and economical to call in a professional rather than trying to do everything yourself. If your accounting is beyond the expertise of you or your employees, a CPA or other financial professional may be needed to sort things out. Depending on your needs, you can hire a part-time or full-time employee or use an agency for specific tasks when needed.
Don't Mix Up Personal and Business Finances
One common mistake often made by small businesses is not keeping their business and personal finances separate. This often leads to confusion, especially when it's time to file your taxes. It's also a good idea to separate your personal and business credit. That way, your personal credit isn't harmed if your business goes through hard times. Additionally, separating these two areas of your life just makes everything easier and less confusing.
Create a System
One of the principles of business organization is to have a system in place. Otherwise, your attention to tasks such as filing, managing invoices and balancing your books can end up being haphazard. Make sure all of your employees know what's expected of them and arrange specific times to complete each task.
Improve Your Cash Flow with Invoice Factoring
Many businesses experience cash flow problems due to late payments or other unforeseen financial issues. One convenient solution is invoice factoring, which lets you receive immediate cash based on your accounts receivable. Riviera Finance offers invoice factoring services that help businesses of all sizes and in all industries solve their cash flow challenges.