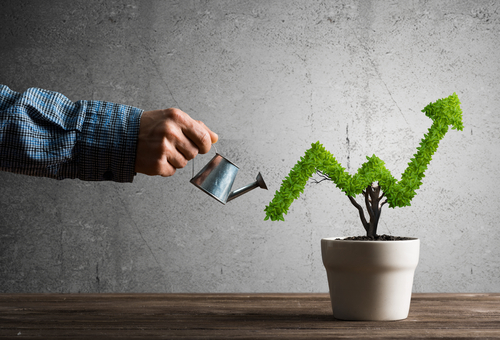 If you want to attract more website traffic and customers, it's essential to keep up with the very latest digital marketing and other business strategies. As Google, social media and other platforms constantly change, you need to keep up in order to stay ahead of the competition. Here are eight tips to help you grow your business.
8 Tips to Help with Business Growth
1. Identify Your Unique Brand Identity
If you want your business to achieve its full potential you need to get creative and emphasize what makes you different. Your brand identity should be apparent in everything you put out from your logo to your blog posts. When you develop a unique voice, it's easier to attract a loyal following.
2. Amp Up Your Social Media Efforts
As people spend more and more time on social media, you need a strong presence there if you want to reach your prospects and customers. Identify the platforms where your audience is most active and focus your attention there. Make sure you have lots of links between your website and social media pages. For example, whenever you publish a new blog post, link to it on Twitter, Facebook, LinkedIn and any other social sites you use.
3. Look For Ways to Save Money
Most businesses can find ways to reduce expenses without sacrificing quality. Pay attention to what you spend on equipment, services, marketing and other expenses. Seek better terms from suppliers. Buy supplies in larger quantities. Cut back on services that aren't providing you with a solid ROI.
4. Optimize Your Google My Business Listing
Google My Business is an important tool for local SEO and marketing your business online. If you haven't claimed your listing, do so as soon as possible. It's also essential to make the most of your listing by choosing the right category and ensuring that your contact information is accurate and up to date.
5. Start or Upscale Your Blog
Blogging is an evergreen digital marketing strategy that will remain relevant as long as there are search engines. Your blog posts help your search engine optimization (SEO) strategy, as well as establish you as an industry expert. The keys to successful blogging are to go out of your way to create outstanding content and to publish on a consistent schedule. Best practices suggests blogging at least one to two times per month.
6. Optimize Your Site for Voice Search
Voice search is one of the fastest-growing technologies out there. When you create content now, you need to consider whether it's voice search-friendly. One way to do this is to place a concise list of facts that are important to your audience on your website such as a list of FAQs.
7. Pay Attention to Packaging and Labeling
If you ship physical products, make sure that your packaging and labeling is attractive and convenient. Customers' first impression of their delivery starts with the box. Make sure items are adequately protected and shipped in boxes of the appropriate size. Clear and attractive labels are useful for promoting your brand as well as ensuring prompt delivery. Keep up with packaging design trends so you can impress customers before they even start using your product.
8. Engage in Social Listening
In addition to building your own social media pages, it's helpful to monitor social media so you know when people are talking about you. Social listening is a strategy that keeps you aware of any conversation that affects your brand. This may also include comments about competitors or industry trends. Use Google Alerts or other social listening tools to keep up with relevant mentions. In some cases, you can participate in these discussions to provide information or correct any misconceptions.
These tips will help you build your brand and broaden your reach. Another powerful way to strengthen your business is to improve your cash flow. Riviera Finance offers invoice factoring and other innovative financing for all types of businesses.
Learn more about how Riviera Finance can help your business grow. Get in touch with us.