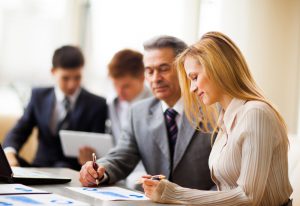 Small business finance is all about maintaining healthy cash flow. However, small business owners face constant challenges to cash flow. These can include seasonal fluctuations, unexpected orders, product returns, customer disputes and delinquencies, unplanned expenses, vendor price increases, taxes, regulations, etc.
Unfortunately for the small business owner, most customers want to wait 30-60 days to pay, while most suppliers want to be paid immediately.  This is especially true when the small business is new and credit is not yet established.  This "cash flow gap" is a major reason to secure some form of small business finance.
For business-to-business (B2B) companies, it's a good idea to have a backup source of accounts receivable financing that can turn outstanding invoices into cash when needed.
What is Invoice Factoring?
Invoice factoring is a service where a factoring company purchases your accounts receivable and provides you with immediate cash. In this type of small business financing, your company gets credit based on the payment history of your customers.  You deliver products and services to your customers as you normally would. Rather than having to wait for the customer to pay your invoice, however, you get immediate cash. The customers then pay what they owe to the invoice factoring company.
Invoice factoring is a simple process for small business funding. It can be more available and flexible for small business than obtaining a small business loan or using personal or business credit cards to pay expenses. With this process, you can gain control over your business's cash flow.

How Riviera Finance Benefits Your Company
Riviera Finance is one of the most trustworthy and experienced invoice factoring companies. We've been in business since 1969 and have helped businesses in many industries improve their financial situation. Here are some of the ways that working with Riviera Finance can help small businesses.
The Riviera Finance Advantage
Grow your business faster. Lack of cash flow holds back many small businesses. With invoice factoring, you have more cash on hand, which can be used for a variety of purposes. You might be able to take on more clients, purchase necessary equipment or hire more employees.
Keep up with expenses, such as payments to your own suppliers and creditors, payroll taxes, and other everyday business expenses.
Get funding immediately. Riviera Finance guarantees 24-hour funding.
Simple process. Applying for invoice factoring is a fast and easy process. There are no set-up fees or long-term contracts required.
You have the reassurance of working with a stable and trustworthy company. Riviera Finance has maintained the same ownership and has earned a profit every year since its opening in 1969. We have 25 offices and more than 150 employees in locations throughout the United States and Canada. You can access your accounts online or by phone 24/7.
A business finance alternative to loans. Many small businesses seek loans when they need financing. Unlike loans, however, invoice factoring doesn't depend heavily on your personal credit. When you sign up for invoice factoring, you're not incurring debt. This helps you maintain and build your credit.
Working with Riviera Finance is simple. The invoice factoring process can be explained in a few steps.
Provide information about your customers. Riviera checks the information and establishes credit for your customers.
Your business delivers products or services to your customers in the usual manner.
Submit invoices, orders and backup to Riviera.
Riviera provides you with cash within 24 hours of verification.
Your customers pay their invoices directly to Riviera.
Invoice factoring is an easy way to improve cash flow and business finances for your small business. It's a method that works for all kinds of businesses, regardless of your size and experience. To find out more about how invoice factoring can help improve your business finances, contact Riviera Finance today.