Miami, FL Invoice Factoring Office
Miami, FL 33126 | Phone: 305-262-0055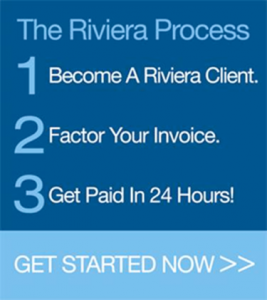 Riviera Finance is an invoice factoring company providing the following services for companies in Miami, Ft. Lauderdale, Boca Raton, Fort Myers and all cities throughout South Florida.
Riviera Finance Miami, FL Office
Contact Information
305-262-0055
Fax: 305-262-0046
5870 SW 8 Street
Suite 6
Miami, FL 33144
Contacts   (Se habla Español)
New Business:
Jessica Avila, Client Success Representative
javila@rivierafinance.com
Client Services:
Joseph Pineda, Account Executive
jpineda@rivierafinance.com
Laura Zelaya, Account Executive Assistant
lzelaya@rivierafinance.com
Alicia Gomez, Operations Manager
aramirez@rivierafinance.com


Recent Fundings in the Miami, FL Area
Improving Cash Flow and Expanding Equipment Roster
Type Of Business:
Transportation Company
Factoring Line:
$200,000
Location:
Hialeah, FL
This Miami-based trucking company was eager to expand, but was having difficult generating capital quickly enough to bankroll their need for new equipment. They had several excellent accounts, all of which were paying more slowly than they would have liked. Riviera was able to factor all of their accounts, greatly improving their cash flow in the process, and the company was able to purchase four new refrigerated trucks. Since then, their monthly sales volume has tripled.