Boston, MA Invoice Factoring Office
Boston, MA 02026 | Phone: 781-742-7244
Providing cash flow solutions to businesses in Boston, Massachusetts.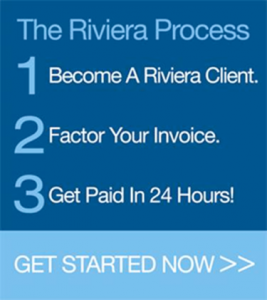 Riviera Finance is an invoice factoring company providing the following services for companies in the Boston area.
Accounts Receivable Finance
Payroll Funding
Boston Office Phone Numbers And Address:
781-742-7244
Fax: 401-336-2443
3 Allied Drive
Suite 303
Dedham, MA 02026
Boston Office Contacts
David King, Business Development Manager (NY, CT, MA, and New England)
dking@rivierafinance.com
Joyce Gant, Business Development Representative
jgant@rivierafinance.com


Other Invoice Factoring Resources:
Recent Invoice Factoring Fundings in Boston
Riviera's Continued Commitment to Companies in Boston:
Type Of Business:
IT Staffing Company
Factoring Line:
$150,000
Location:
Baltimore, MD
Growing IT Staffing Company won a bid with a government agency to provide temp placements and quickly doubled their size and payroll. They needed increased cash flow to meet their weekly payroll as they waited to be paid from their clients. The company reached out to Riviera Finance and expressed their need for immediate capital. Riviera Finance completed the application approval, verification and funding process quickly & seamlessly and the company was able to meet their payroll deadline.

The company is now pursuing larger projects, now that they have Riviera Finance in place to provide working capital to support their growth.