Denver, Colorado Invoice Factoring Office
Denver, CO 80111 | Phone: 800-336-2223 Or 303-409-7706
Providing cash flow solutions to businesses in Colorado and Wyoming.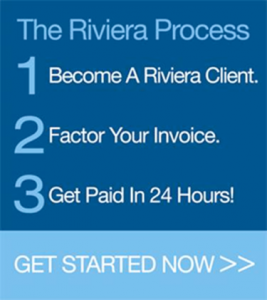 Riviera Finance is an invoice factoring company providing the following services for companies in Denver, Boulder, Colorado Springs, Casper, and across Colorado and Wyoming.
Accounts Receivable Finance
Business Financing
Payroll Funding
Phone Numbers And Address:
303-409-7706
800-336-2223
Fax: 303-379-4769
8400 E. Prentice Ave
Suite 1500
Greenwood Village, CO 80111
Contacts
New Business:
Jim McCarthy, Business Development Manager
jmccarthy@rivierafinance.com
Elizabeth Stites, Operations Manager
estites@rivierafinance.com

Recent Fundings
Type Of Business:
Transportation Broker
Factoring Line:
$700,000
Location:
Denver, CO
Established in 2005, this company needed to maximize cash flow to handle seasonal increases in load volume and a surge in new contracts. Riviera Finance quickly established a full-service factoring line which provides free credit checks and converts invoices to cash within 24 hours. The client is funded twice a week on a non-recourse basis. As a value-add, Riviera Finance prepares and mails checks to the client's carriers.

Between April and June, 2013, this client doubled its factored volume and continues to experience healthy growth.