Atlanta, Georgia Invoice Factoring Office
Alpharetta, GA 30022 | Phone: 800-334-2092 or 404-237-2286
Providing cash flow solutions, invoice factoring, and payroll funding to businesses in: Georgia, Tennessee, Kentucky, Alabama, and Mississippi.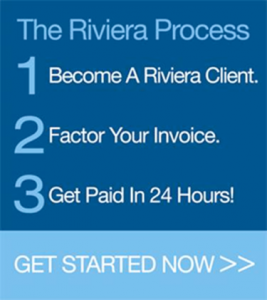 Riviera Finance is an invoice factoring company providing the following services for companies throughout Atlanta, Nashville, Memphis, Birmingham, Louisville and all cities throughout Georgia, Tennessee, Kentucky, Alabama, and Mississippi.
Accounts Receivable Finance
Business Financing
Payroll Funding
Phone Numbers And Address:
404-237-2286
800-334-2092
eFax: 404-393-3564
Fax: 678-242-0545
1000 Mansell Exchange West
Building 300 Suite 340
Alpharetta, GA 30022

Recent Fundings
Facilitating Rapid Growth through Working Capital
Type Of Business:
Trucking Company
Factoring Line:
$500,000
Location:
Georgia
This truck driver had been working for someone else in the transportation business for years. Since she had many contacts with direct shippers, she realized she had a great opportunity to start her own company. She began her business with five owner operators. She was stuck at five trucks for several months while she got her insurance to accept her growth plans. With the help of Riviera's factoring services, she began to expand – 12 trucks to start then 20 then 30. Now, in less than 6 months of utilizing our services, she has over 45 trucks running!
Start ups: We can do! No history, no track record, no problem.
Type Of Business:
Staffing
Factoring Line:
$100,000.00
Location:
Knoxville, Tennessee
This husband and wife team had worked for a staffing company for many years and decided to go out on their own. Both had many years experience but had never owned their own company. After several rejections from banks on their loan request, they were referred to us by a former client and a loan officer from a small community bank. We were able to fund their first-ever payroll and get them up and running using their previous week's receivables.