Northeast Business Development Office
Uniondale, NY 11556 | Phone: 201-876-4858
Providing invoice factoring, payroll funding and working capital to businesses in: New York, New Jersey,  and New England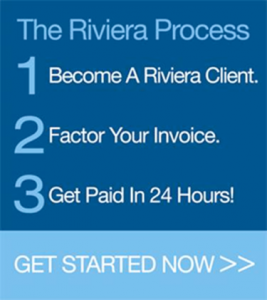 Riviera Finance is an invoice factoring company providing the following services for companies in Manhattan, Long Island, Princeton, New Haven, Hartford, Providence, Boston, and all other cities in New Jersey, New York, and New England.
Accounts Receivable Finance
Business Financing
Payroll Funding
Phone Numbers And Address:
201-876-4858
Fax: 201-221-8132
626 RexCorp Plaza
Uniondale, NY 11556
Contacts (Se habla Español)
New Business:
Matthew DiGianni, Business Development Manager
Joyce Gant, Business Development Representative

Recent Fundings
Keeping Up With Increasing Product Demand
Type Of Business:
Security Guard Company
Factoring Line:
$1,600,000
Location:
New York
This well established, family owned security guard company obtained a large purchase order with a major firm for their services. However, they were already completely using up two existing credit lines with large banks in New York. They began to search for an alternative source of lending so that they would not have to turn down this opportunity. After being approved by another lender who was slow to fund them, they called Riviera. We approved the deal, paid off both lines of credit, which totaled over $1.6 million and funded them in only nine working days! Now the client is consistently and easily making payroll with their advance of 90+%. With the help of our Online Account Management Program (a free service we provide to all of our clients), they can now retrieve the status of their 1000+ invoices online. The family is now able to focus on their treasured security business and can leave all the troublesome and tedious accounting to Riviera. After all, it's what we do best!