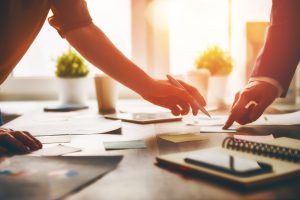 If you're seeking long-term success and growth for your business, it's essential to learn how to manage your business finances. If you don't have a precise understanding of how money is flowing in and out of your business, it's difficult to measure your progress and plan for the future. Here are some tips to help you manage finances.
5 Steps to Managing Your Business Finances
Choose the Type of Accounting That's Best For Your Business
There are two basic methods to track the flow of money in and out of your business. The simpler method is cash basis, which is used by individuals and smaller businesses. With this method, you record transactions after they occur. For example, if you're buying a new computer for your business you'd record this transaction after the purchase. Similarly, you record revenue after you make sales.
The other method is accrual accounting and is used by many larger companies but also some small businesses. In this case, you record transactions as soon as sales or purchasing decisions are made, even if money hasn't yet been received or paid. This method is more complicated but gives you more information about the future. It can also give you tax advantages. If you decide to use the accrual method, it's helpful to follow GAAP or generally accepted accounting principles, which are rules and standards commonly followed that make calculations and taxes easier.
Use a Balance Sheet
The balance sheet is a basic business tool that's been around for as long as people have been doing business. Even in the digital age, your balance sheet is a basic tool to manage finances. You always want to be aware of exactly how much money is flowing in and flowing out of your business. Of course, today you don't need to use a pen and paper to track your expenses as there are many automated tools to help you do this more efficiently.
Analyze Your Business Expenses and Decisions
It's not enough to simply track your income and expenses. You always have to analyze your finances and look for areas that need improving. This is called a CBA or cost-benefit analysis. Do this for both existing and prospective expenses. You should do a CBA before buying new equipment, hiring employees or paying for an ad campaign.
Consider Getting Help
Handling all of your accounting needs yourself gets more difficult as your business grows. Hiring a qualified bookkeeper or CPA can help you save time and also ensure that your finances are properly managed. Accounting professionals will help you manage areas such as payroll, taxes, accounts payable and receivable.
Manage Cash Flow and Business Credit
Business credit is helpful for maintaining good relationships with suppliers and getting loans. Opening a line of credit and managing it responsibly is one step to establish good business credit. It's important to understand the state of your business credit.
These are some of the guidelines that help you manage business finances. The more closely you manage your cash flow, the easier it is to make wise decisions that help you build your business. Another way to help you manage finances and cash flow is invoice factoring, a process that lets you collect payment on invoices immediately. This is something that you may be eligible for even if your business is new or you're not able to obtain a business loan.
Find out how Riviera Finance can help you with invoice factoring. Get Started now!